Transition to Home-Based Learning
Jakarta , 13 March 2020
No. : 011/SS-EX/III/20
Subject : Transition to Home-Based Learning

Dear Parents and Guardians,

The recent news update regarding COVID-19 has become the top of concern of school management. Fortunately, we have not had any reports yet of any COVID-19 symptomps in our school community. Springfield School leaders met today to review the current situation in Indonesia and decided that immediate actions are necessary to ensure the health and safety to our community. Therefore, Springfield School will do the following:
Transition to home-based learning for students from 16 – 27 March 2020.
G10, G11 and G12 students will still come to school for written exams, oral exams, or tryouts that have been scheduled previously.
Continue to conduct deep cleaning of all school areas on a daily basis.
Regular working hours are still applied to teachers and staff during this period.
We apologize for the incovenience and appreciate Your understanding.
Please continue to practice healthy habits with Your family, and let us continue to pray for protection.
Sincerely.

L. Ramiyanta Hadi
Executive National Principal
Springfield School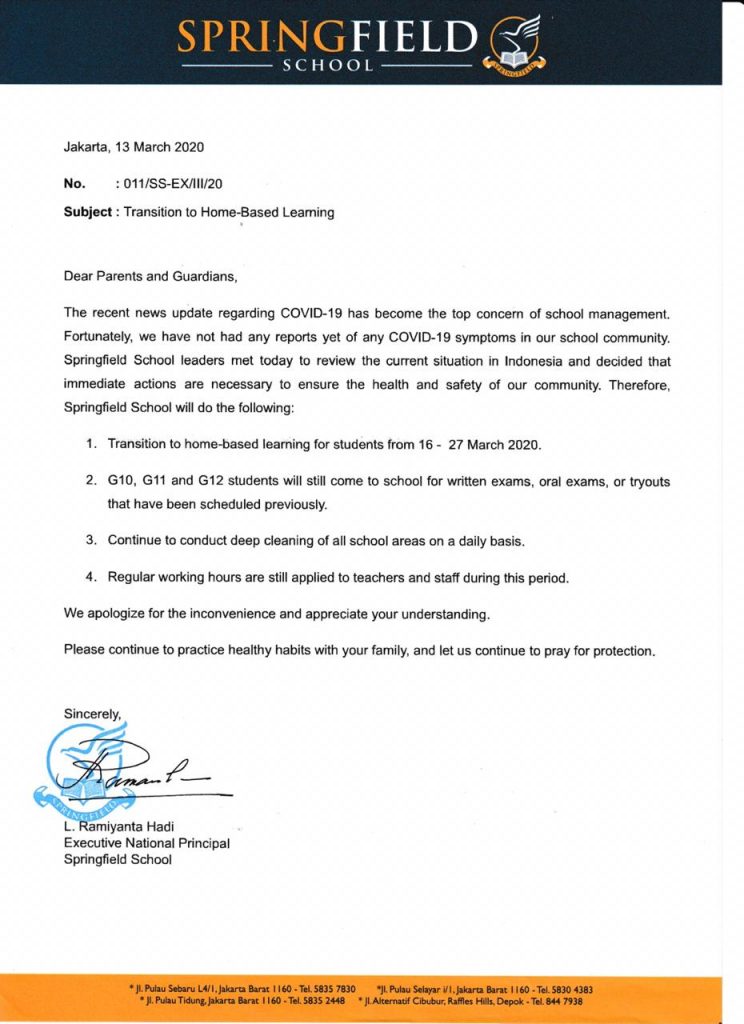 Previous
February 14, 2020